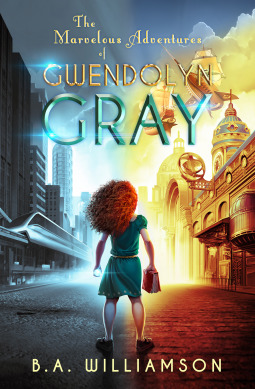 The marvelous adventures of Gwendolyn Gray Review
The Marvelous Adventures of Gwendolyn Gray, tonally, felt like a mixture of a Wrinkle in Time and Alice in Wonderland. The prose is definitely geared toward a younger audience, but the author's style of writing itself added huge amounts of life to the words and ultimately delivered a very enjoyable reading experience for me.
The narrative itself is wonderfully imaginative and visual, the story initiating in a monochrome, oppressively standardized cityscape, centered around a protagonist that is a riot of color and imagination. This is where the Wrinkle in Time elements manifest, because the City seeps in low threat and looming wrongness, embodied in Faceless, bowler hat-wearing men that come in twos known as the Mister Men. All of these elements combine into a soft horror/thriller element, and are often deliciously unsettling.
But this isn't just a story about this one city, its is a book about many stories and, with a little narrative help, Gwendolyn visits another one of these stories, a steampunk world full of color and imagination. Again, all delivered with a strong sense of visualization and style, and a wonderful contrast to the City.
Gwendolyn is a strong protagonist, full of spunk and likable without being perfect.
The pacing of the story is excellent, never feeling slow or rushed, with plenty of time provided for you to enjoy the various settings and scenes through which the narrative progresses. Information is provided at appropriate times and the inner workings of the world/universe are inherently interesting enough that I enjoyed learning about them.